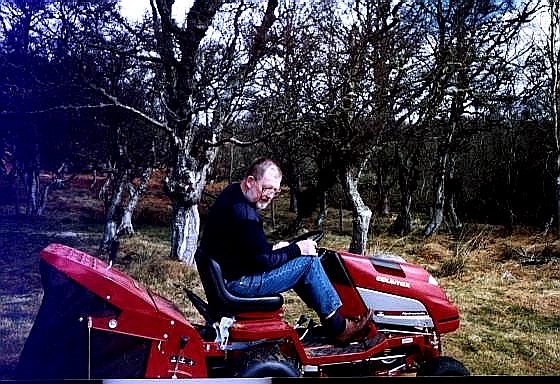 A LONG WAY FROM CANNON ROW
John says that his nickname of 'Porridge' was coined by none other than PS. George Garnham because his first wife was a Quaker. He also included in his email to us the following:
"A few more positive things to ponder are that until last year I was still managing to race swim with a Masters Club and in 2001 managed two golds and a silver at the Dutch Open Masters in Nijmegan.
The photo was taken at home. We live on the site of the old East Sutherland Hospital for Infectious Diseases............one of the old style TB sanitoriums from the days when the only treatment was to build a place with lots of access to fresh air and sunshine. Dunno about the sunshine but we sure do get the air as we look straight out over Loch Fleet towards Caithness for the nice fresh Northerlies that have not touched land since about Spitsbergen, or creeping in from behind up a nice venturi shaped valley can come equally refreshing breezes off the Atlantic!
We live in the much modified Matrons Cottage -one of the three houses on the site left after a major partial demolition project. Partners in crime are a lab., a retriever , a rabbit killing cat and several bantams of the feathery footed variety".
John's cousin is Ex PC 463 'A' Adrian 'Albert' Hall now living in Queensland, Australia who has just retired with the rank of Inspector after completing 30 years in the Queensland Police. (See picture below)